Hong Kong Tarot Centre was established in 2002. We aim at promoting the tarot and numerology as tools for self-conscious and spiritual growth. Through the arrangement of tarot seminars, numerology seminars and regular gatherings, we encourage more people in Hong Kong or other overseas Chinese societies to use and treat tarot and numerology with positive attitude. We also select and train brilliant tarot and numerology consultants to provide moral and professional tarot and numerology personal sessions to the public.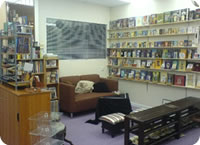 tarot.com.hk is a cyber gathering place and shopping mall for people who enjoy spiritual growth in Hong Kong, China and Taiwan. Our website is built for promoting the value of spiritual growth and various tools for that. We provide a great variety of tarot, numerology and other spiritual products and books. Here you can also find a forum to share and, of course, exchange your experience, views and feelings in the course of your exploration on Tarot or Numerology.
Apart from this cyber place, we also have a Tarot Centre in Kwun Tong offering,
Tarot cards and books and other spiritual books' library

Seminars on Tarot and Numerology by our consultants or masters over the world

Gathering for our members to practice tarot or numerology reading under our guidance

Seminars for the ethical tarot readings

Sales of cards and books to our members and retailers
We believe a right attitude is an important foundation for any tarot or numerology readers. Once we processed a correct understanding and attitude, we can explore our inner-self with a door-key for the consciousness life.
Welcome to the Tarot world!
What is Tarot
What is Numerology
Message from Yvonne
Message from Mangala
Message from Dr. Hsu
tarot.com.hk is wholly owned by Hong Kong Tarot Centre Limited.